My wife, Fran and I have been multi sport athletes since we were young. We actually met at a Lacrosse tournament back in '99 when Fran was in her senior year at The College of New Jersey and a returning All-American. I too was fortunate to have been able to play at a high level of lacrosse through my mid-twenties. We share a passion for athletics, health and fitness.
Due to unforeseen events, both of our lifestyles would have to change. A serious car accident in which Fran sustained major injuries, forced her to stop most of her training and focus on healing. I had a series of athletic injuries that put me on the sidelines as I entered my thirties which prevented me from playing the sports that I enjoyed. At this time, I had read an article in a health and fitness magazine that touted the benefits of a quality rebounder that included greatly reduced impact and jarring than traditional exercises or sports, immune enhancing lymphatic flushing and the cell strengthening abilities of G-forces.
We were both searching for a different way to stay fit and healthy but most importantly pain free. Shortly after hearing more and more about the rebounder, Fran and I were able to take a class to become Certified Reboundologists. Not having much experience with the rebounder, we were amazed at what we learned. From that date in May 2006, Fran and I have used the Needak Soft Bounce rebounder practically every day. I even take it with me on vacation, that's how much the rebounder has impacted our lives.
We experienced a dramatic change in our overall health in the months that followed our certification class. We lived a relatively healthy lifestyle but were still getting colds, some bad, on a regular basis. Since rebounding daily, I can thankfully say that the decrease in colds and flu have been next to amazing. Fran has been working with children since 2001 and I can honestly say that she has had only one minor cold since we took that class…truly amazing. I too have had very few minor colds in the 3 years that have passed.
The other main benefit we felt was that we were both able to train on the rebounder daily and maintain a level of fitness that we both desired. Even Fran with a bulging disk in her neck and back was able workout pain free. The way the G-forces work on a cellular level and the soft bounce of the Needak rebounder allowed her to naturally rehab her injuries and strengthen supportive tendons and muscles. Thankfully, today she's able to resume an active lifestyle that includes running and resistant rebounding with little to no pain. We believe the rebounder (along with regular chiropractic visits) played a large part in her healing as she was told by her doctor that at the age of 24 she would always live with pain and not be able to run or play recreational sports due to the injures sustained in the car accident.
Another benefit I received from daily rebounding is that I regained strong arches in my feet. My friend who is a physical therapist noticed that my arches fell when I stood up. I had gone to him to check out my ankle after a getting a bad sprain in a lacrosse tournament; this was about 2 months before my certification. I do most of my rebounding barefoot to naturally allow the muscles in my feet to be strengthened. Today, my arches are as strong as ever, thanks to the rebounder.
Our three plus year journey with rebounding has been more rewarding than we could have imagined. Recently, we found a new benefit of the rebounder in gently bouncing our newly born daughter, Grace to sleep. It calms her down and within minutes she is asleep in my arms…well most of the time anyway.
We are truly excited to be able to share our story and the benefits of rebounding with you. Please take the time to look through the website and if you have any questions or comments, email us at emr41@comcast.net
Best in health,
Eric Ransome, Certified Reboundologist
Wellness Bounce, LLC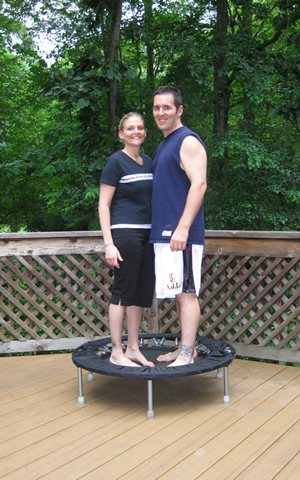 Fran and Eric